Men's Terra Spider X Low Composite Toe Athletic Safety Work Shoe
Colour:

Black / Grey / Lime
Men's Terra Spider X Low Composite Toe Athletic Safety Work Shoe
The Spider X fuses athletic-inspired design and work-ready safety technology. This safety shoe features a low-profile direct-injected PU midsole and outsole with supportive sidewall chassis. Underfoot, the premium PU FOOTBED® maximizes comfort while the CLEANFEET® odour-control liner wicks away moisture. Metal-free, lightweight and made to move—step into the TERRA® Spider X.
Water-resistant suede and nubuck leather upper with comfort padded collar and tongue
Moisture-wicking and abrasion-resistant lining
CLEANFEET® odour-control treatment
Reflective micro-printing on medial and lateral quarters
Low profile direct-injected PU midsole and outsole with supportive sidewall chassis
Premium comfort PU FOOTBED® insole
CSA approved composite safety toe, composite plate, ESR
TERRA FIRMA-FLEX® – 100% Metal Free
Styles available: Black / Grey / Lime (1088BG), Black / Orange (4NPYBO), Black / Silver (4NPYBS)

TERRA FIRMA-FLEX®
TERRA FIRMA-FLEX® lightweight Metal-Free technology. This revolutionary combination of super-weaved high tensile fabric and resilient polymer compounds makes for one tough toe- cap. The sole plate, constructed of laminated layers of this extraordinary composite, is even stronger: averaging 20% more resistance than traditional steel plates.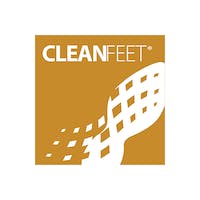 CLEANFEET®
CLEANFEET® odour control treatment is a game-changer in the footwear universe. This patented technology doesn't just help odour - it actually works to prevent odour before it starts. CLEANFEET® stops odour dead in its tracks. CLEANFEET® is a natural and safe method of controlling odour, guaranteed for the life of your workboots.
Slip Resisting Results
The following average coefficients of friction (CoFs) were attained under specified test conditions according to the CSA Z195-14 standard. Tested at Satra Technology Services.
Test Surface
Flooring


Mode of Test
Results (CoFs)
Quarry Tile
Dry
Flat
0.74
Heel
0.58
Wet
Flat
0.77
Heel
0.59
Stainless Steel
Wet
Flat
0.52
Heel
0.36
Floor and air temperature, type of flooring, a contaminated floor surface are all variables that can affect the slip resistance of footwear. We recommend you seek the advice of your retailer, safety officer, and/or TERRA, a division of VF Outdoor Canada, Co. for appropriate footwear for your application.